I was given the opportunity to review a copy of
It Stars with Food
by Dallas and Melissa Hartwig. I was interested in reading this book because I have always been curious about the paleo diet and it seems like lately there is this huge fuss surrounding eating paleo. So why not read all about it.
I read the book in two days, which shows just how much I enjoyed it. I could have read it in one sitting but I decided that sleep was important since my children get up early. I found this book very interesting. I was fascinated when I read that by changing his diet completely, Dallas no longer suffered from chronic shoulder pain. It really made me think and I was
very
curious to try it at this point.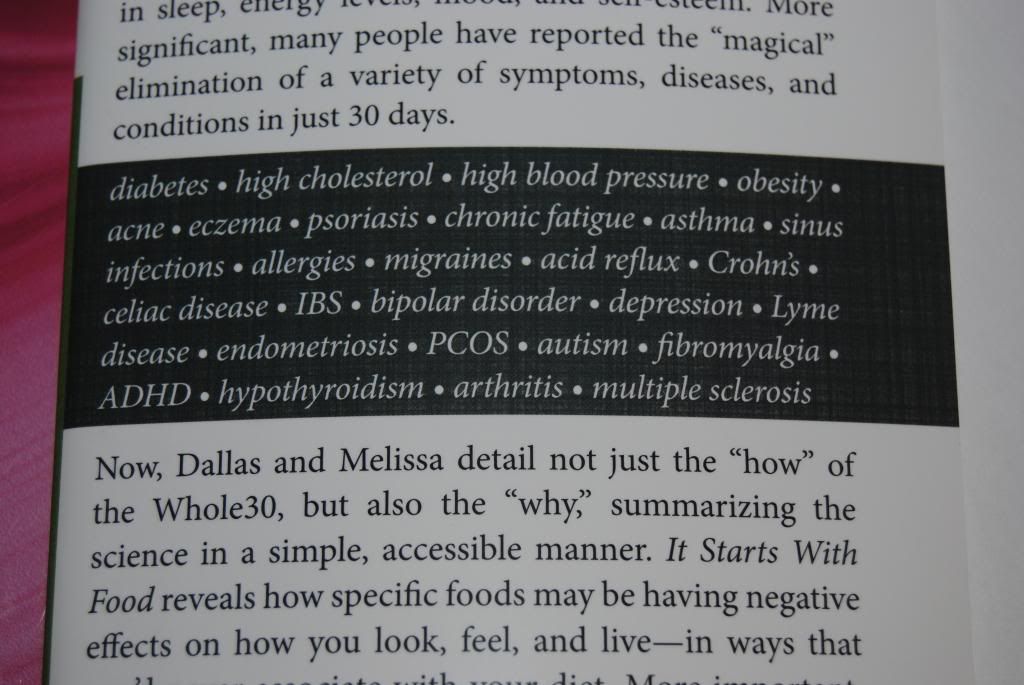 Some of the conditions the Whole30 has eliminated
Last year was a very hard year for me running wise. After being diagnosed with a stress fracture in August, I realized that I had been running injured the previous months. I also had IT band issues in my right hip which made running even more difficult. Lately, I also noticed that I am having some gastrointestinal issues after running, so I was very eager to try something new. If a diet change could cure Dallas then it could totally help me, right?! I already tried going vegan for 30 days, so trying the paleo diet did not seem so hard.
It Starts with Food
explains how the authors came to their conclusions
regarding which foods are considered "more healthy" and which are considered "less healthy" based on the good food standards.
The good food standards are essentially the building blocks for the Whole30 plan. The authors did a great job explaining the program and they admit that the first few days are the hardest but it will pay off in the end. There is a post-Whole30 chapter that explains how to reintroduce foods one at a time and see how your body reacts. The book offers many resources including recipes to get you started. After I finished reading, I visited the
Whole30
website and found tons of useful information. I found an awesome shopping list and some "must haves" to make the transition easier.
If you are looking to "reset" your body or interested in detoxing, you should definitely read
It Starts with Food.
I talked it over with the hubs and we started the Whole30 today! I'm really interested in seeing the changes and hopefully resolving some issues I've been having.
Wish me luck!
Disclosure: As a
FitFluential
Ambassador, I was offered a free copy of
It Starts with Food
to read and review. All opinions are my own.
This is the last week to enter my Team In Training raffle. $10 donation and you're entered to win $150 Road Runner Sportss gift card. Click
HERE
to learn more.