This cold is kicking my ass. I thought I was getting better but it seems I am nw much worse. I barely have a voice. What voice I do have is raspy and squeaky. I'm sure my kids and husband are loving it. Last night, I laid out all of my running gear for this morning's
Team In Training
group run. I was really looking forward to running around Haines Point.

Yeah...that didn't happen. I barely slept. I was waking up every 2 hours coughing and blowing my nose. However, I did wake up at 5:15 and laid in bed contemplating on whether to get up and start getting ready. I grabbed my iPad and googled "running while sick". I read about the "above neck/below neck" rule.
The rule of thumb is that if your symptoms are above the neck, then it's ok to run. If your symptoms are below the neck, then it's better to rest. Since I am dealing with awful chest congestion, I opted to stay home...booo. However, I did get up with my kids and made some coffee. A few minutes later, the hubs came downstairs and sent me back to bed....such a great man!
I knew there was a reason why I married him.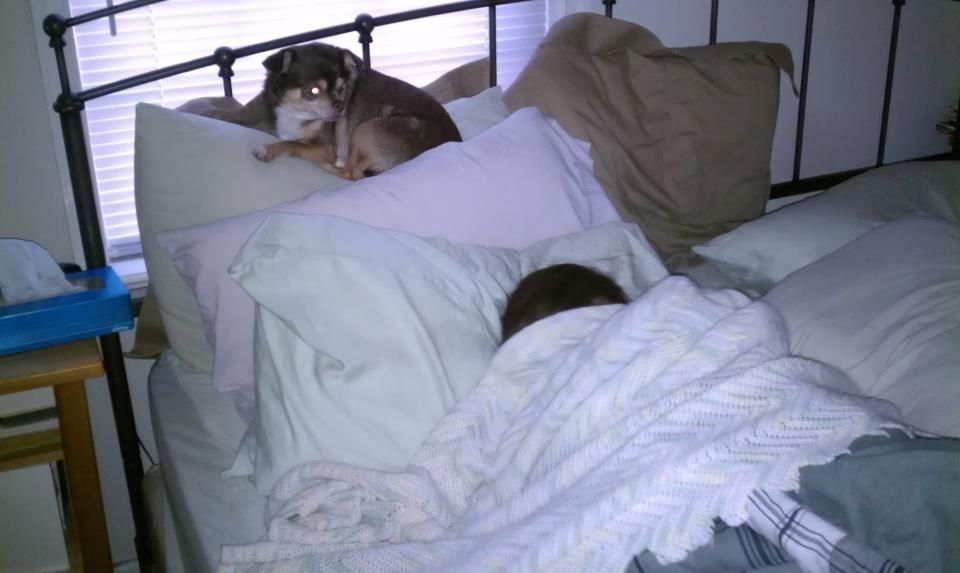 Goliath watching over me, haha
I chugged some more NyQuil and took a nap with Goliath. He's the best snuggler/napping partner. I think he enjoys me being sick so that he doesn't have to nap alone. He's cuddling with me right now as I type out this blog.
I guess I will continue to rest and hopefully kick this cold/flu/superbug to the curb. I hope I feel well enough tomorrow so that I can get my 6 miles in.
How do you battle colds? Forced rest? Or push through it?
Have you entered my online raffle? $10 to enter and you could win $150 gift card to Road Runner Sports! Click HERE to enter!! You do not want to miss out on this!
*OR*
If you do not need any running-related items, you can still donate to my Team In Training Fundraiser. Every little bit helps!! Click HERE